Back to News
Press Release · Apr 11th, 2019
SIMBA Chain Awarded the 2019 1st Source Bank Commercialization Award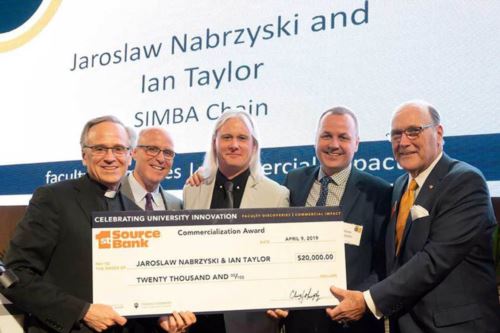 On April 9, 2019, as part of IDEA Week, 1st Source Bank awarded University of Notre Dame faculty members Jaroslaw Nabrzyski and Ian Taylor the 1st Source Bank Commercialization Award for 2019 for their work on SIMBA Chain and its underlying "Aladdin" software technology. The award was presented to SIMBA Chain by President of the University of Notre Dame, Rev. John I. Jenkins, C.S.C. and 1st Source Bank CEO, Chris Murphy.
The 1st Source Bank Commercialization Award is presented each spring to a faculty member from the University of Notre Dame or the Indiana University School of Medicine-South Bend who has successfully transitioned their technology from the lab to the marketplace.
Nabrzyski is the director of the Center for Research Computing (CRC) at Notre Dame. Taylor is a research professor of distributed computing at the Center and in the Department of Computer Science and Engineering.
SIMBA is a Blockchain-as-a-Service (BaaS) platform based in the Microsoft Azure Government cloud that makes the complex blockchain technology easy for non-specialists to use to make decentralized applications. SIMBA, short for SIMple Blockchain Applications, collaborates with Microsoft and participates in the "Microsoft for Startups" program.
SIMBA CEO Joel Neidig, director of research at Indiana Technology and Manufacturing Companies (ITAMCO) in Plymouth, Ind. began partnering with Notre Dame five years ago. ITAMCO and the CRC won a Defense Advanced Research Projects Agency (DARPA) grant that, with the help of the IDEA Center at Notre Dame, eventually led to the formation of SIMBA in 2017.
SIMBA collaborated with the CRC to license its new "Aladdin" technology, which enables users to store large files on a network off the blockchain network with linked access, making the blockchain faster and cheaper. Customers include major manufacturers such as Dow Chemical and Caterpillar, government entities and various healthcare providers.
"1st Source Bank recognizes that innovation is imperative to the growth of our community," states 1st Source CEO, Chris Murphy. "Through this Award, we celebrate and invest in those faculty members whose efforts make a direct impact to our community, and to the world, by moving their technology from an idea into a reality."
This is the ninth consecutive year the Award has been given. Last year's winner was Mike Bean, an associate athletic trainer at Notre Dame who created the ankle brace commercialized by TayCo Brace LLC. Previous winners were Notre Dame professors Nitesh Chawla, Gary Bernstein, Joel Urbany, Matthew Leevy, Hsueh-Chia Chang, Timothy Ovaert, Peter Kogge and Jay Brockman.
Photo Credit: Photo by Matt Cashore/University of Notre Dame