Back to News
Press Release · Feb 14th, 2022
Forbes Names 1st Source Bank One of America's Best Midsize Employers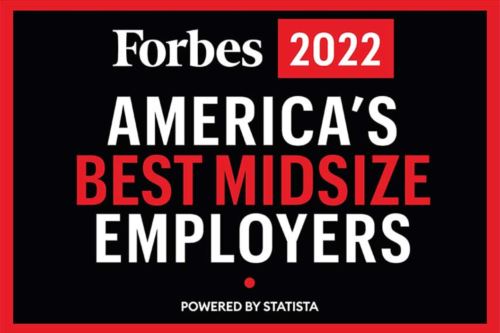 Forbes recently announced the results of a survey conducted in partnership with market research firm Statista, which recognized 1st Source Bank as one of the top midsize employers in the country. 60,000 Americans working for businesses with at least 1,000 employees were surveyed. 1st Source Bank ranked 325 overall (out of 500 companies), making this the second consecutive year the Bank has been included in the list.
"At 1st Source Bank, we're proud of the culture we've created and the opportunities for learning and growth we provide to our colleagues," says Dan Lifferth, Senior Vice President of Human Resources for 1st Source Bank. "It's gratifying to know our colleagues value that culture as much as we do. Making a positive difference in the lives of our colleagues, clients and community is of great importance to us and is the essence of our mission. It's our constant goal to provide a values-based workplace that attracts diverse talent, and uplifts and encourages every team member. We want our colleagues to be proud of that, and earning this achievement for a second year in a row lets us know our efforts are making a difference."
According to the Forbes article on the rankings, participants were asked to rate, on a scale of zero to 10, their willingness to recommend their employer to others. Respondents were also asked to rate their companies on factors such as working conditions, development opportunities and compensation.