Back to News
Press Release · Sep 15th, 2021
1st Source Foundation Donates $10,000 to Support Girl Scouts of Northern Indiana-Michiana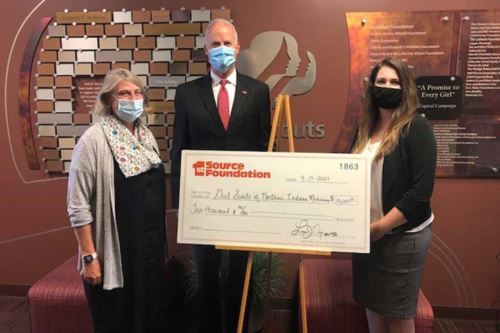 The 1st Source Foundation recently donated $10,000 in grant funding to the Girl Scouts of Northern Indiana-Michiana in support of the Staff-Led Troop program. While based in Allen County, this effort will serve troops located across northern Indiana.
"1st Source recognizes the positive impact the Girl Scouts organization has on all our communities," says Larry Mayers, Fort Wayne Regional President for 1st Source Bank. "We strongly believe in the mission of the Girl Scouts and are proud to support the organization as it adapts to modern demands in order to continue to serve the young women who will one day be leaders across northern Indiana."
The Staff-Led Troop program was developed in reaction to many troops in the area not having adult volunteers – often mothers of one of the Girl Scouts in the past – able to step into the role of Troop Leader. This traditional model had become less successful over the years since many households and families have increased demands on their time and resources.
"Our council is very appreciative of this generous donation from 1st Source Foundation to support the Staff-Led Troop program," said Sharon Pohly, CEO of Girl Scouts of Northern Indiana-Michiana. "It will enable us to provide even more girls with leadership development opportunities in a supportive, girl-centered environment."