Back to News
Press Release · Aug 28th, 2019
1st Source Bank Honors 11 Local Leaders with Ernestine M. Raclin Community Leadership Award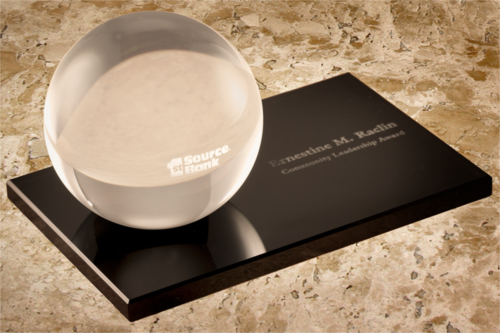 South Bend, Ind. (August 27, 2019) – On Friday, August 23, dozens gathered to celebrate the work of 11 community volunteers who have been selected as the 2019 recipients of the Ernestine M. Raclin Community Leadership Award. An award ceremony and luncheon was held for the group of honorees and their guests, during which the work of each award recipient was outlined and celebrated.
In its twentieth year, the Ernestine M. Raclin Community Leadership Award was established by 1st Source Bank to honor and encourage leadership in volunteerism through businesses in the local community. The award recognizes Ernestine M. Raclin, Chairman Emeritus of 1st Source, who strongly demonstrated the spirit of volunteerism throughout her career by giving of her time and talents to help others.
This year's award honorees represent communities and industries across northern Indiana, and have provided volunteer leadership to organizations in addition to those listed with their name below.
David Schaffer, Partner and CPA at Kruggel Lawton CPAs in South Bend – volunteers with Spectrum Health Lakeland, Cornerstone Alliance, Lake Michigan College Foundation and the biennial Senior PGA tournament.
Joe Noffsinger, Retail Business Banker for 1st Source Bank in South Bend – volunteers with the River Park Business Association, the LaSalle Council Boy Scouts of America, the Clay Granger Lions Club, the Potawatomi Zoological Society, United Way and Junior Achievement.
Chris Straw, President of Team Quality Services, Inc. in Fort Wayne – founder of Launch DeKalb County, which provides scholarships for and encourages high school students to pursue their entrepreneurial spirit, and transformed the DeKalb Show Choir Invitational.
Neil Miller, Business Banker at 1st Source Bank in South Bend – volunteers with Chet Waggoner Little League, Upward Basketball/River City Basketball, the Community Credit Corporation and Southwest Michigan Growth Alliance.
Dr. Daryl Yost, Director of Community Relations at the Northeast Indiana Innovation Center (The NIIC) in Fort Wayne – volunteers with Hospice, the Hospice Foundation and the Fort Wayne Philharmonic.
Cecile Weir, Business Banker for 1st Source Bank in the Fort Wayne area – volunteers with the YWCA of Northeast Indiana, Brightpoint Development Fund and several professional associations in her community.
Dr. David Hoffert, Superintendent of Warsaw Community Schools – volunteers with United Way of Kosciusko County, Region 8 Education Service Center, the Baker Youth Club, Wagon Wheel Center for the Arts, the Kosciusko Chamber of Commerce, the Kosciusko Community YMCA and Orthoworx.
Trish Sarkisian, Trust Officer for 1st Source Bank in the Valparaiso area – volunteers as Executive Director with the Valparaiso Schools Foundation, and for 30 years with Tri Kappa.
Dr. Richard C. Boling, Chief Medical Officer at Boling Vision Center & Insight Surgery Center in Elkhart – provides free eye exams, glasses and surgeries in Elkhart Community Schools and volunteers with Coaches vs. Cancer, Boy Scouts of America, Relay for Life, Riverview Adult Daycare and many others.
Lori Moulton, Banking Center Manager at 1st Source Bank's downtown Valparaiso office – 40 years supporting Opportunity Enterprises, helping enrich the quality of life for individuals with disabilities in Valparaiso, and serves her local Kiwanis.
Linda Lewandowski, Office Administrator of the Starke County Economic Development Foundation in Knox – founder and Executive Director of Kid's Closet Outreach, North Judson United Methodist Church, providing clothing, bedding, hygiene products and school supplies to children in Starke County.
"We are so impressed by our honorees and by all those who were nominated for this year's consideration," states Christopher J. Murphy III, Chairman and CEO of 1st Source Bank. "1st Source is thankful for their dedication and commitment to making our local communities better places to live, work, worship and raise families. These individuals, and the many other thousands of volunteers who serve so many good causes, are the backbone of our communities and weave a strong fabric that supports us all. Again, we are so grateful, and their service inspires us to get even more involved."
Honorees were presented a globe of leadership award, a $1,000 personal cash award and a $1,000 award donated to the local charity of their choice.