Back to News
Press Release · Jan 22nd, 2019
1st Source Bank Donates $50,000 to the Rees Theatre Project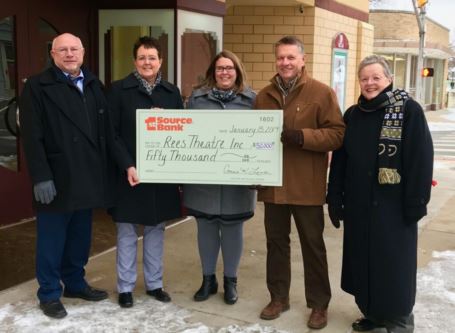 1st Source Bank recently donated $50,000 to support the rehabilitation of the Rees Theatre in downtown Plymouth. The project, which is projected to be completed in 2020, will bring the Theatre up to current code requirements so that the space can be utilized by the community.
"1st Source recognizes the positive impact having a space like the Rees Theatre can have on our local community," states Connie Lemler, Community Region President for 1st Source Bank. "It is important to re-invest in our downtown areas, and to preserve landmarks that have meant so much to the people here. It will also be a great luxury to have a space like this for families and businesses to enjoy right here in Plymouth."
Once completed, the Rees Theater will serve as community space for events such as: concerts, theatrical performances, film screenings, seminars, workshops, exhibits, wedding and other receptions.