Why do you need a savings account?
Personal savings accounts are important for your financial security. They can provide the money you need when life's inevitable emergencies happen. Perhaps your furnace stops working in the middle of winter, or your vehicle breaks down and your auto insurance has a $500 deductible. Savings accounts are also excellent to have when you want to take a vacation or make some home improvements and you don't want to use a credit card.
What We Offer
1st Source Bank has a variety of savings accounts to fit your needs. Check out our options and consider a direct deposit of your paycheck into your checking and or savings account. Our Everyday Interest Savings account provides daily interest on your balance and easy access to your funds. We have an e-Student Savings account designed for students, a Holiday Savings account to help you save money for holiday spending, and Portfolio accounts for higher balances and a higher rate of return. We also offer Certificates of Deposit (CD) as a no-risk way to earn higher interest, Individual Retirement Accounts (IRAs) and Health Savings accounts (HSAs) for help paying your medical expenses.
What is my 1st Source Routing number?
You can find your routing number at the end of your check.
Routing number: 071212128
Account number
Starting number of your next check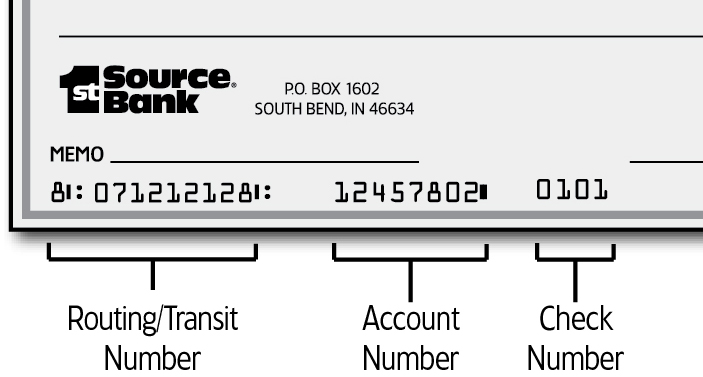 Use this to set-up Direct Deposit with your employer or retirement benefits (i.e. employer, annuity, Social Security).
Are there limits to the number of transactions I can make with my Savings Account?
You are allowed four (4) withdrawals per month before we charge a $2 Excessive Withdrawal Fee.