Some ways to pay are more secure than others. Let's dive into different options – swiping, inserting, tapping, and using a digital wallet – and see how they stack up when it comes to keeping your money secure.
Digital Wallet (Security Rating: Very High):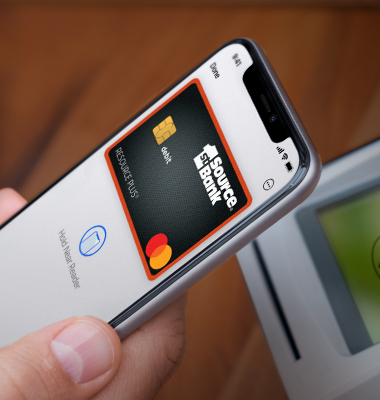 A digital wallet is like a money vault on your phone that only you can open (ApplePay for iPhones, GooglePay for Android). Digital Wallet uses your fingerprint, face scan, or a special PIN to make sure it's really you making the payment. Plus, it doesn't directly share your card details. It's kind of like when you tap your card, becuase it uses a fancy code for each buy, making it really hard for anyone to steal your info, but even better making it the most secure way to pay for things. The best part? You can add it to your phone automatically with the 1st Source Bank App at no cost.
Tap to Pay (Security Rating: High):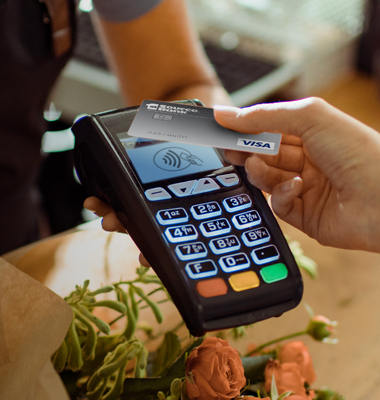 Tapping your card, also called contactless payment, is one flaw away from being as good as digital wallets in terms of security. It uses fancy tech called Near Field Communication (NFC) to send your payment info wirelessly when you tap your card. But like digital wallet – it doesn't send your actual card details. Instead, it makes a one-time code just for that payment. So, even if someone tries to grab the signal, they can't use it again. The downside is, for small buys, you don't even need to type in your PIN. Making your card vulnerable to certain types of attacks.
Insert (Security Rating: Moderate):
Inserting your card is a bit safer than swiping, but it's not foolproof. The extra safety comes from your card's "chip." This chip, also known as EMV technology, adds a big layer of protection. The data on the chip changes every time you buy something, making it way tougher for thieves to make fake cards if they get your card details. Plus, this method often asks for a Personal Identification Number (PIN), adding even more security.
Swipe (Security Rating: Lowest):
Good old swiping might not be the safest choice. It's been around forever and, sadly, it's not very secure. Bad guys can put sneaky gadgets called "skimmers" on the card reader, and they can snatch your card info when you swipe it at a store, gas station, or ATM. While some places still use swiping, it's not as common as it used to be.
In Summary
Among these options, the digital wallet is the best overall. It blends convenience with advanced security features. Yet, regardless of your choice, always monitor your accounts for unusual activity. If you are ever concerned about your account activity or have questions, please feel free to reach out. If you would like to learn more about how to protect yourself from fraud, go here.